Yorkshire County Cricket Club granted £4m by council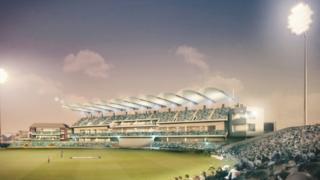 A grant of £4m towards a new £28.5m stand at Headingley stadium has been agreed by Leeds City Council.
The site is home to rugby league side Leeds Rhinos, rugby union side Yorkshire Carnegie and Yorkshire County Cricket Club.
The cricket club will receive the money, subject to planning approval, for the stand which will face both the cricket ground and rugby pitch.
The stadium hopes to host matches in the 2019 Cricket World Cup.
Capacity at the cricket ground would increase to about 18,500 after the building of the new three-tiered stand, according to the council's report.
Councillor Richard Lewis said: "Yorkshire and cricket are practically synonymous and Headingley rolls off the tongue of people worldwide when discussing some of the great international cricket matches."
The award is subject to planning approval the council said, but if granted it is hoped the stand will be completed by April 2019.