Man stabbed and hit by car after Shipley town centre chase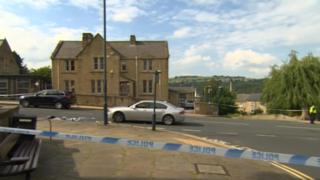 A man was stabbed after being chased down a street and hit by a car, police have said.
The 32-year-old was running through the centre of Shipley on Saturday after an altercation in Kirkgate.
He was hit by a vehicle as he fled and then stabbed by a man who was pursuing him.
He suffered serious injuries and is being treated in hospital. A 45-year-old man has been arrested and police are not looking for anyone else.