Leeds display explores sculptors' role in prosthetics development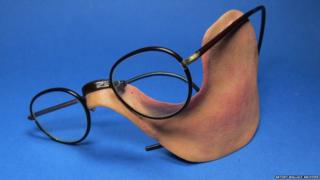 The role of sculpture in developing more realistic and useable prosthetic limbs since World War One is being explored in an exhibition.
The return of thousands of injured soldiers during WW1 led to a massive growth in the prosthetics industry.
Sculptors worked with surgeons who helped create facial masks and limbs for troops injured in the trenches.
More than 70 items showing developments since the 19th Century are on display at the Henry Moore Institute in Leeds.
Prosthetics have been around since ancient times, but the technology did not advance significantly until the two world wars.
Before 1914 artificial limbs were uncomfortable and impractical but the number of amputees as a result of war injuries tested the ingenuity of engineers, spurring the growth of prosthetics manufacturers.
Lisa Le Feuvre, head of sculpture studies at the institute, said the exhibition, which runs until 23 October, explored how the sculptor's studio influenced the development of prosthetics.
Ms Le Feuvre added: "If you go to see the way prosthetics are made it smells like a sculptor's studio, it looks like a sculptor's studio so the processes of making really interested us."