Dying doctor Kate Granger raises £250k for cancer charity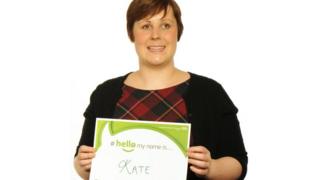 A terminally ill doctor has reached her long-held ambition to raise £250,000 for a cancer charity before her death.
Dr Kate Granger, from East Ardsley, set about fundraising for Yorkshire Cancer Centre after being diagnosed with a rare form of cancer in 2011.
With her health deteriorating, husband Chris Pointon made a plea on social media to help reach her target.
Dr Granger, 34, was also behind a successful campaign to improve the way doctors and nurses speak to patients.
As a result, the hospital consultant started the "Hello my name is..." campaign which went on to win the backing of more than 400,000 doctors, nurses, therapists and porters across 90 NHS organisations.
It came after she described how the doctor who informed her that her cancer had spread did not introduce himself to her, and did not look her in the eye.
Mr Pointon, whose wife is now being treated at St Gemma's Hospice in Leeds, announced on Twitter that the fundraising target had been achieved.
'Proudest man alive'
The Yorkshire Cancer Centre also tweeted: "Today the incredible, inspirational @GrangerKate reached her fundraising goal of £250,000."
Mr Pointon said that her final dying wish was now that her campaign received backing from Prime Minister Theresa May.
Speaking about her achievements, he said he was the "proudest man alive" and described her as "a one in a billion person".
"Yes being taken away from the world at 34 is cruel but in those 34 years she has made a huge difference."
He added: "She doesn't always think she's achieved a lot in her life but her legacy will remain for many, many, many years to come and we have many ambassadors across the globe that will make sure the names Kate Granger and 'Hello my name is' will always be remembered."