Leeds Council inquiry into failed bus and tram schemes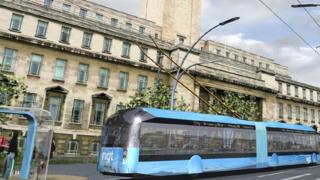 An inquiry is to be held into decisions made by a local authority over two transport schemes which were eventually scrapped.
The council and West Yorkshire Combined Authority spent nearly 30 years and invested £72m in developing the Leeds trolleybus and Supertram projects.
Both plans were rejected by the Department for Transport (DfT) in May.
A scrutiny panel will examine decisions made by Leeds City Council following a request from its leader Judith Blake.
The £250m trolley bus network, known as the Leeds New Generation Transport (NGT), was scrapped after a planning inspector deemed it was "not in the public interest".
The proposed project would have seen a nine-mile (14.8km) route built from the centre to the north and south of the city.
The trolley bus scheme was the successor to the Leeds Supertram project, which was scrapped by the DfT in 2005 because of affordability.
The scrutiny panel, which will meet on Wednesday, will be presented with a dossier of paperwork spanning three decades.
It will look at the roles of the council, combined authority and transport operator Metro in relation to decisions for both NGT and the Supertram.