Batley Variety Club to shut doors after 49 years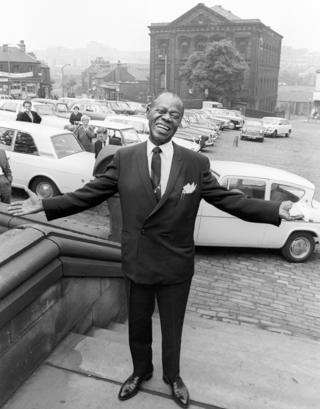 A West Yorkshire club that has hosted artists including Louis Armstrong and Dame Shirley Bassey is to close and be turned into a gym.
The Batley Variety Cub, now known as Batley Frontier, will close later this month almost 50 years after it opened.
General manager Nick Westwell described the closure as a "very sad time". A special event will be held on 30 July to celebrate the club.
The venue, in Bradford Road, is due to be converted by JD Gyms.
Live updates on this story and others in West Yorkshire
---
Who's played at 'The Variety'?
In 1967 the club, run by James Corrigan, opened with a sold-out performance by The Bachelors, who had already scored eight top ten singles including a number one three years earlier with 'Diane'.
In 1968 Louis Armstrong played the club just weeks after he knocked the Beatles off the number one spot in the UK charts with 'What a wonderful world'.
Dame Shirley Bassey played at the venue a number of times. She was regularly booked for three-week runs which would sell out.
It wasn't just on stage where there was magic. While performing at the club in 1968, Roy Orbison met his future wife Barbara.
In 1974, when the Bee Gees were performing, Yvonne Spencely was a waitress. She and Maurice Gibb hit it off and the pair married the next year.
---
Mr Westwell said: "It is, without question, a very sad time and we are truly sorry to be losing such an icon.
"We are very conscious that this will be quite emotive for many people and we understand the loss of any significant entertainment space can be extremely damaging to small towns in particular."
"Since the turn of the century, the commercial entertainment landscape has changed and the demands for larger arenas, opposed to smaller style concert halls, has been prevalent."