Morrisons bakery fire brought under control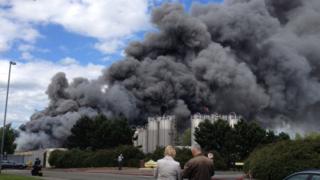 A blaze which destroyed a Morrisons supermarket bakery has been brought under control.
Fire crews are still at the scene of the blaze, which gutted around 80% of the 86,000 sq ft (8,000 Sq m) building near Wakefield.
Crews were also damping down at a site housing heavy goods vehicles near Halifax which was badly damaged.
About 50 firefighters attended both blazes on Sunday and roads surrounding both sites were closed.
More on this and other West Yorkshire stories.
'Flying burnt bread'
West Yorkshire Police said nobody was seriously injured in the fires and neither is being treated as suspicious.
Nearby residents said they saw burnt bread and debris flying through the air.
Vanessa TwilightDash tweeted: "Everybody was watching for miles. People were screaming "Morrisons is on fire"
"There was flying burnt bread in peoples' gardens."
A spokesman for Morrisons said no-one was injured in the blaze at its bakery on the Wakefield 41 Industrial Estate, close to Junction 41 of the M1.
Police warned people to stay indoors and close windows following the fire at the industrial estate at Bowlshaw Lane, near Shelf, Halifax.
The site contain 25 lorries and also contained Diesel, LPG and acetylene tanks, West Yorkshire Fire Service said.