Sheffield joins bidders for 2018 northern exhibition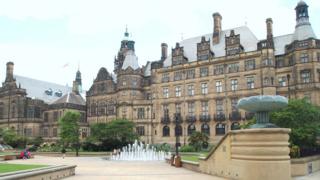 Sheffield has announced its bid to host the Great Exhibition of the North in 2018, a two-month showcase of northern art, culture and design.
The event would be funded by £5m from the government, with "public and private funders" providing further cash.
The Department for Culture, Media and Sport said a £15m "legacy fund" would also be provided.
Other contenders include Bradford and a combined Newcastle and Gateshead bid.
More on this and other South Yorkshire stories.
Sheffield's bid is by a "cultural consortium" involving the council, the city's two universities as well as local arts organisations.
'Extraordinary strengths'
Kim Streets the chief executive of Museums Sheffield, said the exhibition would "take over the city centre".
"We'd be using all of our venues," she said. "The ones that we all know and love, as well as some unusual venues and creating temporary spaces too.
"It's an opportunity for everyone to come together."
Bradford's bid would bring recognition to the city's "extraordinary strengths", according to the council's chief executive Kersten England.
The exhibition would include "all that is wonderful about the north" and would attract new visitors to the city, she added.
A board to handle bids for the exhibition is chaired by Sir Gary Verity, the chief executive of Welcome to Yorkshire,
The winning bid is to be announced in October.