Bradford to Leeds £29m cycle superhighway opens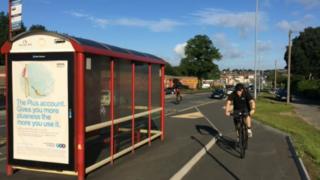 A stretch of a new £29m cycle route linking Bradford and Leeds has opened.
A nine-mile (14km) cycle superhighway runs between the two cities, with the full route out to east Leeds expected to open later in the year.
The route has segregation for cyclists and priority over cars at some road junctions, developer City Connect said.
But a transport consultant warned the scheme would not meet its target of getting many more cyclists onto the route because it was "so disjointed".
Ken Spence, the sustainable transport consultant, said it was a "missed opportunity."
"Pedestrians will have to share space with cyclists, particularly at bus stops", he said.
A cycle superhighway is designed to a higher specification than a traditional UK cycle route, according to City Connect,
In most cases a kerb is alongside the cycle track or the track is set higher than the road, but parts of the Bradford to Leeds route are only separated by a white line.
Councillor Keith Wakefield, former leader of Leeds City Council and transport leader for the West Yorkshire Combined Authority, said: "People will feel safer and more secure.
"This is a good, safe way of doing a little trip to school or the shops.
"We know it's not perfect and we'll be going back to address some of the concerns.
"This is a compromise... you've got to design the best safety you can"
Mr Wakefield said the measurement of success for the new cycle route would be a reduction in accidents and fatalities in the short term and a fall in congestion and air pollution in the longer term.
It is expected 9,000 daily trips will be made along the route according to City Connect.