Wetherby man jailed over drug cutting agent business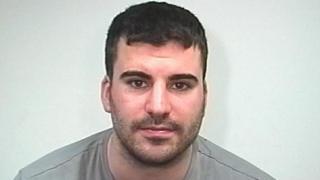 A man who used his online chemical supply businesses to sell large quantities of cutting agents to drug dealers has been jailed for 18 years.
Gregory King, 26, from Wetherby, West Yorkshire, bought 1.2 tonnes of the pharmaceutical drug benzocaine between 2013 and 2014 to then sell on.
The National Crime Agency (NCA) said the drug is popular in bulking cocaine to increase quantity and profit.
At the Old Bailey, King was convicted of conspiring to supply class A drugs.
King supplied benzocaine and other cutting agents to drug dealers throughout the UK and internationally, the NCA said.
He was arrested by West Yorkshire Police in January 2014 after cutting agents were seized from a lock-up in Wetherby where he ran his business.
During one deal, a barrel of benzocaine was delivered to Alfred Henaj, 35, from London, and placed in the boot of a car which was later stopped by police.
Henaj was also found guilty of conspiring to supply class A drugs and was jailed for 14 years.
Three other men were also sentenced for their involvement in the operation.
The NCA said 10kg of benzocaine mixed with the same amount of cocaine could generate a potential return of £750,000.
Andy Tickner, from the Organised Crime Partnership, said: "Gregory King helped the illegal drugs trade make millions of pounds in profits.
"The quantity of cutting agents he was supplying would have had a wider impact on the availability and purity of cocaine on the streets of the UK, bringing the price down to a level which made it accessible to more users, and exposed more people to risk."