MP slams 'horrendous' Jo Cox leaflets from 'BNP'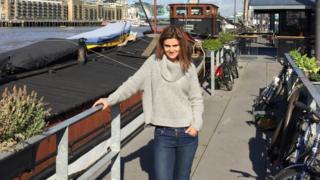 Leaflets containing "horrendous allegations" against MP Jo Cox have been criticised.
Labour MP Paula Sherriff said the leaflets, which she said were from The British National Party (BNP), were distributed to her constituents in Dewsbury.
The pamphlets said Ms Cox, who was shot dead, had taken "misguided action" by "helping Muslims" who might go on to join the Islamic State group.
The BNP denied producing the leaflets.
Home Office Minister Karen Bradley pledged to meet Ms Sherriff to discuss the "utterly unacceptable" leaflets and to look at what "specific action" could be taken.
Speaking in the House of Commons, Ms Sherriff told MPs some of her constituents had also raised concerns about hate crimes.
She said: "Yesterday, people in my [Dewsbury and Mirfield] constituency received a leaflet from the BNP saying Jo Cox took misguided action by helping Muslims in the country, who may now go on to join Isis, alongside some other horrendous allegations."
She said one of her constituents - a seven-year-old Muslim girl - was told to go home and take her family with her.
"And I am continuing to receive a number of similar incidents," she added.
Ms Bradley told Ms Sherriff: "I would like to meet you if you would allow and perhaps we can discuss a specific action being taken and make sure that any crimes such as those are reported and actions taken against them."
The BNP described the leaflet in a statement as a "black ops" fake.
"The British National Party did not produce or deliver any such leaflet," it said.
It had notified the police and was "insisting on a serious investigation" to identify "the perpetrators of this vicious act".
The BNP had already stated the murder of Jo Cox was "outrageous", it added.
Mrs Cox was attacked in Birstall on 16 June.
Former BNP member Jack Buckby is to contest the by-election in the Batley and Spen constituency Mrs Cox represented, despite commitments from the Conservatives, Liberal Democrats and UKIP not to field a candidate.