Flashing police cape officer Stuart Moore spared jail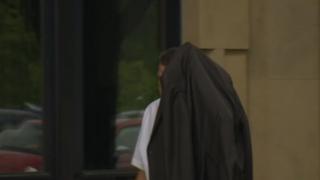 A police officer who exposed himself to a woman on her doorstep while reportedly wearing an old-fashioned police cape has been spared jail.
Stuart Moore, 53, was convicted of indecent exposure and a further charge of sexual assault after a trial.
He was given a three-year community order and put on the sex offender's register for five years.
Bradford Crown Court heard Moore was in a "dark and lonely place" when he committed the two offences in 2015.
The Huddersfield Daily Examiner reported he had been wearing "an old-fashioned policeman's cape" when he exposed himself.
Live updates on this story and others from around West Yorkshire
Moore, from Huddersfield, claimed he had made "a mistake" while the woman, who cannot be identified for legal reasons, described him as "creepy" and said in a statement the trial had been embarrassing and very stressful.
On another occasion, Moore touched a different woman on the bottom while they were going for a walk.
He denied that incident had ever happened, but the jury found him guilty of sexual assault.
Both offences occurred in the autumn when Moore was off duty, the court was told. He has since been suspended by West Yorkshire Police.
'Anxiety and distress'
Passing sentence, which included an indefinite restraining order, Judge David Hatton said: "You were a man of impeccable character....perfectly clear to me that apart from these two offences you've led a perfectly blameless life and one that's been of considerable benefit to others.
"For various reasons, including a serious accident, you sadly turned to drink and became dependent on it. I'm satisfied that when you carried out these offences you were in a dark and lonely place."
Judge Hatton added: "You have caused considerable anxiety and distress, [but] you have been punished significantly with the loss of your career, your family life is devastated."
Moore, who has served as a police officer for over 25 years, has been in rehab since the autumn.
Det Ch Supt Julie Sykes, head of West Yorkshire's Professional Standards Department, said: "The public put their trust in police officers and breaching it in this way, whether on or off duty, is not acceptable and will not be tolerated by West Yorkshire Police.
"This officer remains suspended from duty ahead of misconduct proceedings."