Dog owner 'scum' for leaving bitten girl, 5, bleeding in Hebden Bridge, says mother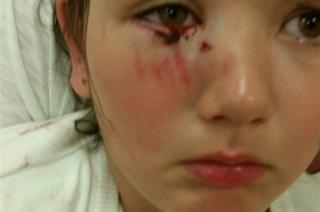 The owner of a dog who fled after it bit a five-year-old girl on the face has been labelled "absolute scum" by her mother.
Nieve was attending the Handmade Parade in Hebden Bridge with her grandparents when the dog jumped up and bit her.
She needed eyelid surgery and suffered "potentially irreparable damage" to a tear duct.
Police said two men left without checking the girl or leaving details.
Live updates on this story and others from across West Yorkshire
Nieve's mother, Paula, from Bradford, described the dog's owner as "absolute scum" for fleeing the scene.
"How he could walk away from a bleeding child is beyond me, there are no words," she said.
The girl was in a queue for a food stall in Calder Holmes Park when she was attacked shortly before 15:00 BST on Sunday.
She was also bitten on the ankle despite the dog being pulled away on a lead, her family said.
West Yorkshire Police appealed for help to identify two men who were seen with the dog at the time.
Chris, her father, said: "She could have lost her eye, she was covered in blood and the guy just ran off, it's cowardly."