Daria Pionko death: Sex worker suffered 'forceful attack'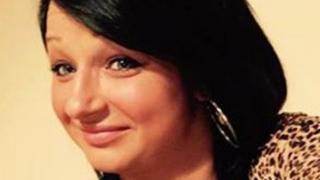 A woman described as a sex worker suffered a "sustained and forceful attack", a court has been told.
Daria Pionko, 21, a Polish national, was found seriously injured in Springwell Road, Holbeck, Leeds on 23 December 2015.
Lewis Pierre, 24, of Meanwood, Leeds, denies murder but has admitted manslaughter and robbery.
The prosecutor told Leeds Crown Court he attacked her to steal money to buy food, cigarettes and drugs.
Kama Melly QC said Ms Pionko was found by a friend who described her face as having been "massacred".
She summoned help but Ms Pionko died shortly afterwards in hospital.
Read more about this and other stories across West Yorkshire
Ms Melly said the 21-year-old had gone out on 22 December in the Holbeck area of Leeds.
The area, away from schools and housing, is one where the council and police had an agreement allowing prostitutes and clients to operate without arrest - a so-called "managed red light area".
The prosecution said a delivery driver working with the defendant had told the police he had no money and had not eaten that day.
Yet the following day he returned to work with food, money, cigarettes and cannabis.
Ms Melly said money was the motivation for the attack.
'Bruised and fractured'
The prosecution claims Mr Pierre used his steel toe-capped work boots to inflict some of the victim's injuries as her blood was found on the boots.
Ms Melly said after the attack the defendant got a lift home and stopped to buy food, drink and cigarettes.
"The prosecution suggests the money the defendant had spent on these things was clearly the money he had taken from Daria the night before," she said.
A post mortem examination found Ms Pionko suffered injuries to her neck and body, bruising to her brain and fractures to her face.
Ms Melly told the court there had been at least seven blows and some would have been inflicted when Ms Pionko was already on the ground.
She said the victim had been left "beaten, bruised and fractured".
The trial continues.