Bradford's Grange Technology College rated inadequate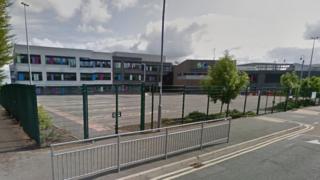 Bradford's biggest school has been placed in special measures after what Ofsted described as a "collapse" in pupil performance.
Grange Technology College near Little Horton became an academy in 2013.
The school was rated good in 2011 but re-branded inadequate after the inspection on 9 and 10 May.
The chief executive of the school trust, Dominic Wall, asked parents for 12 months in which to turn the school around.
Mr Wall, of Southfield Grange Trust which runs Grange Technology College and Southfield School, said the report was "very hard" to read.
The secondary mainstream school has 1,800 pupils, aged 11-18, and 300 staff.
Four of the five Ofsted categories were graded inadequate.
The report criticised leadership, teaching, behaviour and attendance but said the school had strengths in helping pupils new to English and provision for children with disabilities.
The category of personal development, behaviour and welfare of students was considered to require improvement.
Mr Wall said: "We were not shocked, but were very unhappy that Ofsted took a much tougher line.
"We've understood their criticisms and we're now making plans to improve the school quickly.
"Funding pressures and changes to examination systems mean we have to be absolutely at the top of our game to ensure all our students make the best progress and, bluntly, we haven't been at the top of our game."
"We're very sorry about the way standards in the school have slipped since it opened as an academy in 2013."
Mr Wall said parent and community support was crucial.