Fenella the tiger: Exhibition on Holmfirth's unlikely resident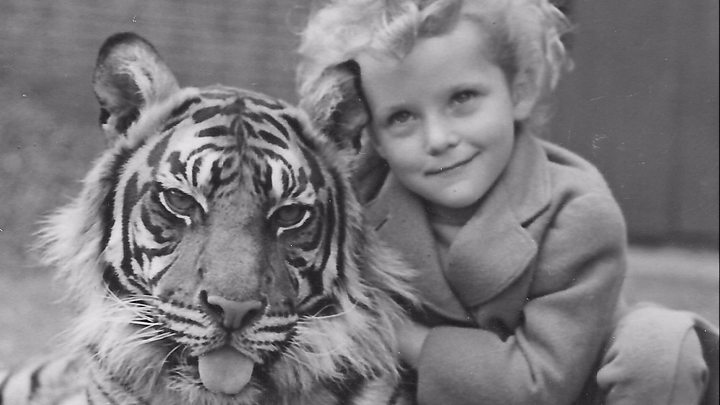 The unusual life of a tiger that lived in a West Yorkshire town has been documented in a photo exhibition.
Fenella lived in Holmfirth during the 1940s and was often seen being walked past the primary school by her owner.
Brought to England as a cub from South Africa, she was cared for by a local family of acrobats after her mother attacked and killed its offspring.
The tigress, which died at the age of 10, is being remembered at the Helen J Bray Studio in Holmfirth.
Rosamund Hiles, whose family owned Fenella, said: "My grandfather built a hut and a double run where she could go outside, and she stayed in the back garden.
"After five months, they opened the door and she lived in the house after that."
She said the council gave permission for Fenella to stay with her owners, the Overend family, but councillors became uneasy after the animal attracted "a lot of press".
"My grandfather took her out as there were people wanting press photos showing how tame she was", she said.
"He took her up the road where schoolchildren were just coming out for their dinners. They stroked Fenella and walked down the road and the press took a lot of pictures."
"The council couldn't say anything after that", she added.
'Big family pet'
Fenella was eventually used as part of a circus act, which included her grandfather "wrestling on the floor" with the tigress.
Rosamund Hiles, who lived with the animal while she was a toddler, said: "I'm proud of my family - they took great care of her, treated her like one of the family and were devastated when she died.
"She wasn't a performing tiger, she was billed as a tame tiger and a very big family pet."
Geoff Steel, who lived in Holmfirth at the time, said: "We used to see the tiger regularly come along our quiet little road and run freely in the field.
"Mother used to say, 'do be careful', but none of us were frightened of the tiger, we just liked the experience of being an arm's length away from this wonderful animal."
The photos, which are being shown as part of the Holmfirth Arts Festival, are on display until Saturday.