River Aire clear-up in Leeds after December floods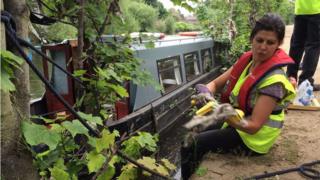 Rubbish and debris left by December's floods is being cleared from a river in Leeds.
Volunteers have been tackling a stretch of the River Aire from the Royal Armouries to Knostrop Quay.
Jon Horsfall, from the Canal and River Trust who is co-ordinating the work along with Groundwork, said the debris gave "a really poor impression of the city".
He added that the litter left on trees could also cause problems for wildlife.
Storm Eva damaged 2,683 residential buildings and 672 commercial properties, as well as churches and the Leeds Rhinos' training base.
"The scale of the problem is massive," Mr Horsfall said.
"Local organisations, big and small, are pulling together to get things sorted. It shows great determination and a real sense of pride in our city."