Tributes paid to Colton crash death girl Amelia Wake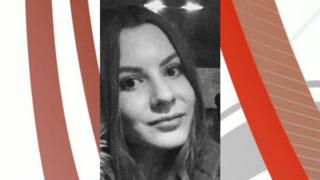 A 14-year-old girl who died two days after being hit by a car has been described by her family as a "beautiful, kind and caring".
Amelia Wake, from Rothwell, was knocked down as she walked by the side of Bullerthorpe Lane, Colton, near Leeds, on Monday.
Paying tribute to the Garforth Academy student her family said they had been left "devastated" by her death.
West Yorkshire Police have appealed for witnesses to the crash to come forward.
'Loved by everyone'
In a statement her family said: "Amelia was such a beautiful girl, both inside and out, she was so caring, kind and loved by everyone lucky enough to have her in their life.
"She was so special to so many people but none more so than us.
"We are devastated that her life has been cut short, at just 14-years-old she should have had her whole life ahead of her, but now we must treasure every single moment we shared with her.
"We are struggling to come to terms with the pain and sadness and why our precious daughter was taken. All we can think is Heaven must have chosen you for an angel".
Staff and pupils at Garforth Academy have also paid tribute to Amelia.
A statement posted on the Academy's website said she was a "bright, confident and conscientious" student and a talented gymnast with "the potential to achieve anything she set her mind to"
It said: "Her positive attitude and infectious smile brightened the lives of all those who met her and the Academy will not be the same without her."