Sheffield's Pennine Foods' staff strike in £5k wage-loss row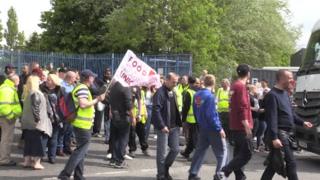 Factory workers who claim they would lose £5,000 a year under contract changes have gone on strike.
About 400 staff members at Sheffield's Pennine Foods factory - which makes M&S ready meals - are on the second day of a 48-hour walkout.
They say changes would remove extra weekend pay and lieu days for working weekends and bank holidays.
Pennine Food's parent company said it was "disappointed some colleagues have decided on industrial action".
"We will be holding more talks to avert any further action, and have contingency plans in place to ensure production remains unaffected", the 2 Sisters Food Group said.
The company's commitment to Pennine Foods was shown by a "£38m investment programme to upgrade the factory into a world-class production facility", it added.
About 900 people are employed at the factory.
John Higgins, regional secretary of the Bakers, Food and Allied Workers Union (BFAWU), said a ballot had found more than 90% of the workforce would refuse the new contract.
"People are entitled to work for a better living wage not for a worse living wage", he said.
Mr Higgins said the company was attacking his members' terms and conditions to "make money back".
The strike is due to finish on Saturday morning but walkouts could be planned in the near future, he added.