Upton quad bike crash: Police arrest 16th suspect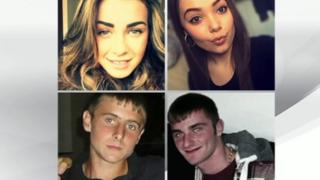 A further arrest has been made over a crash between a quad bike and a car which killed four people.
Terrie Kirby, 16, Alexandra Binns, 18, Ryan Beal, 20, and Brandon Brown, 20, died in the crash on the A6201 between Upton and Hemsworth in September.
Bradley Lockwood, 21, of Barnsley, is the 16th person to be arrested and is charged with encouraging and assisting in the commission of a dangerous driving offence.
He is due in court on Friday.
One woman and 14 men have already been charged with various offences relating to the crash.
They are due to appear at Leeds Crown Court on 1 June.