West Yorkshire headteacher admits online child sex charges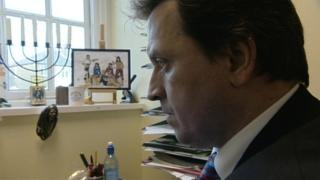 A former primary school headteacher has admitted causing two 11-year-old girls to engage in online sexual activity.
David Warbrick 51, pleaded guilty to offences against the two victims, both from Derbyshire, at Derby Crown Court.
He was suspended as head of Gomersal Primary School, Cleckheaton, after his arrest in 2015. He had previously worked at All Saints Junior and Infants School in Halifax until December 2010.
Warbrick, of St Giles Road, Lightcliffe, will be sentenced in June.
Derbyshire Police said Warbrick made contact with the girls via Facebook and later invited them to have a web cam chat with him where he asked them to take their clothes off.
He was arrested after the girls' parents discovered what had happened and alerted the Child Exploitation and Online Protection Centre, which referred the matter to police.
A spokesman for Kirklees Council said: "We can confirm that David Warbrick was suspended from his post as soon as these allegations came to light some time ago.
"He did not return to school prior to leaving his post permanently in 2015.
"It is important to stress that the offences have no connection whatsoever to David Warbrick's former school."