Ducklings 'battered to death' in Halton Moor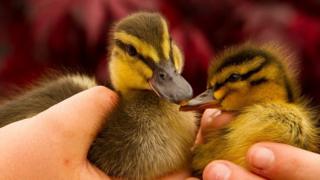 Several ducklings have reportedly been beaten to death by a group of children, prompting a police investigation.
Officers believe the animals were attacked in an area known as the Beck in Halton Moor, Leeds.
A wildlife sanctuary which is caring for a surviving duckling said they were "battered with a stick", before a 10-year-old boy rescued one, reported the Yorkshire Evening Post.
The attack took place between 17:00 and 18:00 BST on Saturday, police believe.
West Yorkshire Police is appealing for information.
PCSO Shaun Taylor, from the force's wildlife crime unit, said: "This is an extremely distressing incident and we are carrying out searches in the area.
"We hope that members of the public who saw anything suspicious in the area on Saturday or have any information to come forward."
Annette Pyrah, animal care assistant at the Wildlife Orphanage, near Selby in North Yorkshire, said: "The duckling arrived in a state of distress, she screamed for two hours after she was placed in an incubator.
"Another older duckling we have here took the other under its wing and cared for it. She's now absolutely fantastic and enjoying life."