Clifford Amoh death: Three teenagers charged with murder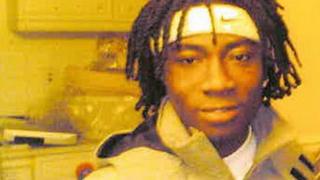 Three teenagers have been charged with murder and robbery after a man was attacked in his home in Leeds.
Clifford Amoh, 29, died from a head injury after he was assaulted in Coldcotes Crescent, Gipton, on 7 May.
Harley Golding 19, of Street Lane, Roundhay, Leeds, Kierron Nicol, 18, of Middleham Road, Edmonton, and a 17-year-old youth were remanded in custody when they appeared before magistrates.
All three are due at Leeds Crown Court on 18 May.
Update 1 November 2016: At a hearing on 4 October, the murder charge against Golding and Nicol was dropped and they were charged with conspiracy to burgle, which they admitted. Both were sentenced to two years in custody.