Joseph Kagan: Halifax's rags to riches Lithuanian refugee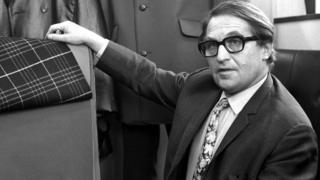 As a new exhibition explores the early life of Joseph Kagan - the rags to riches refugee who escaped the ghettos of Lithuania to found a textile empire that supplied coats to the Queen - BBC News examines his colourful life.
Born in Kaunas in 1915 to a Jewish family, Juozapas Kaganas, as he was then known, came to England in 1933 to study textiles at Leeds University.
But, during a trip back to Lithuania, to visit relatives he became in trapped in his homeland when it was invaded by the USSR in 1940.
Under the Soviets his family's textile mill was wrested from their control before, following some strategic manoeuvring, Kagan was appointed foreman of the factory.
But his fight to regain power over his livelihood was nothing compared to the horrors he faced after Nazi Germany took Lithuania in 1941.
Kagan was to later describe life under Soviet rule as being like a "commando training camp" for life under the Germans.
Following the Nazi invasion he, along with nearly 30,000 more Lithuanian Jews, was herded into the Kaunas ghetto.
He survived for two years by, according to his daughter Jenny, who is behind the exhibition, living on "a combination of wits and good fortune" before, in 1943, the German SS took over and reclassified the area a concentration camp.
Kagan went into hiding with his young bride, Margaret Stormas, and his mother in the six by six foot attic of a foundry.
The couple, who dubbed the tiny hiding place "the box", evaded capture for the next nine months before Soviet troops reoccupied Lithuania in 1944.
Then, in 1946, having escaped Lithuania for Romania, they were taken in by the British Consulate in Bucharest and finally left mainland Europe for England, to begin a new life in Huddersfield.
The couple were among just 500 Jews from Kaunas to survive the war.
Persecuted and penniless, Kagan turned to the only trade he knew, textiles, and began making and selling blankets out of a steel Nissen hut under the name Kagan Textiles Ltd.
Over time the company grew to a point where it employed more than 1,000 people at a factory in Elland, near Halifax.
Its greatest development was Gannex - a lightweight fabric used to make the raincoats famously worn by Prime Minister Harold Wilson, the Queen and the Duke of Edinburgh.
Kagan's friendship with Wilson, who was from Huddersfield, led to Kagan supporting his political ambitions and in 1976, after Wilson retired, Kagan was made a life peer. He had been knighted in 1970.
However, Kagan's meteoric rise from the ghetto of Kaunas to high society ended in 1980 when he was found guilty of fraud and jailed.
Disgraced and stripped of his knighthood - his baronetcy could not be removed from him - he spent 10 months in prison.
Following Kagan's release he returned to the House of Lords and became a campaigner for penal reform until his death in 1995. His wife, Margaret, died in 2013.
Jenny Kagan, whose exhibition opens in Halifax on Saturday, said: "My father was a larger-than-life character who courted controversy throughout his life.
"His later trials and tribulations are well documented, but this show tells the story of my parents as young people, who survived against all the odds, because of both luck and their ingenuity."