Thyssen Krupp Woodhead: Final shift at flooded Kirkstall firm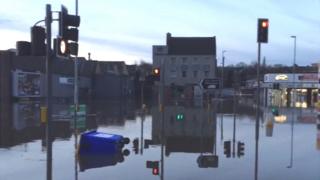 About 60 staff are to work their final shift at an engineering firm badly damaged in the Christmas floods.
Thyssen Krupp Woodhead has made coil springs in Kirkstall Road, Leeds since 1999. But damage caused by the flood in December has forced it to shut.
It found found itself under 4ft (1.2m) of water and the company says the damage to its equipment was severe.
About 30 staff are to stay on before the site closes for good later in the year.
A sales and engineering office will stay in Leeds.
Matthias Koll, from ThyssenKrupp Woodhead, previously said: "We are shocked and saddened by what has happened to the Kirkstall Road site as a result of the Boxing Day floods."
Options are being considered for a new production site with "Eastern Europe the most likely location", according to the company.