West Yorkshire FA's history found in minute books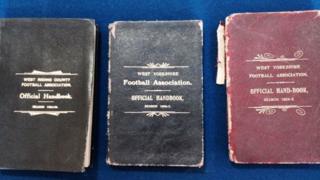 A treasure trove of 120 years of football history has been found under a sink in a disused storeroom.
The books record the minutes of West Riding Football Association meetings dating back to 1896.
The haul also includes handbooks dating back to the 19th Century that feature details of Leeds City - the team that later became Leeds United.
Daniel McGeachie, of the association, said: "It's unbelievable to have found 120 years of football history."
The books were unearthed during a clear out, he added.
Some had been found under a sink in a disused room previously used to store footballs.
The minute books were found discarded in a cardboard box left at the back of a cupboard, Mr McGeachie said.
"It felt surreal to hold the books, it made me realise I was part of something bigger."
The contents of the books are being read and archived by a football historian.
The books could now become the start of a project to write a book for the association's 125th anniversary in five years time, Mr McGeachie added.
The association is the governing body of football in the county and has its headquarters at Fleet lane, Woodlesford, near Leeds.