Life-saving equipment stolen from Holmfirth fire station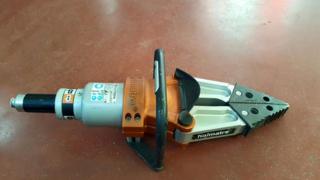 Thieves have stolen £21,000 worth of life-saving equipment from a fire station in West Yorkshire.
Raiders targeted Meltham fire station in Holmfirth earlier this week.
The stolen items, taken from a fire engine, included cutting equipment, a hydraulic pump and a thermal imaging camera.
West Yorkshire Police described the theft as "awful and unbelievable" and said the equipment "was vital for firefighters when rescuing people".
More on this and other West Yorkshire stories
Meltham is a retained fire station with a part-time crew covering the rural area west of Huddersfield.
Police believe the break-in occurred sometime between Tuesday and Thursday.
Fire station commander Dale Gardiner said the a fire engine was left without its full range of equipment for 48 hours, until the stolen gear could be replaced.
"We are really disappointed and downhearted," he said.
"This is valuable equipment which is used to help people in desperate need, and it is a bitter blow to the fire service, and ultimately the people we serve, to have it taken."