West Yorkshire Police Federation slam officer acid attack sentence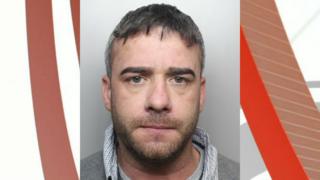 The chairman of West Yorkshire Police Federation has called a 20-month sentence given to a man who threw acid at an officer's face "a disgrace".
Joseph McAllister, 38, was jailed after pleading guilty to attacking Sgt Andrew Heald as he tried to arrest him in March.
Nick Smart said the sentence was "another example of a court letting the police down".
McAllister, of Flockton Road, Bradford, was jailed at the city's Crown Court.
Sgt Heald had been trying to arrest McAllister at a garage in Bradford when the acid was thrown in his face.
McAllister was on licence from prison at the time of the attack for a previous offence.
Mr Smart said: "Police officers will see this as no deterrent, and yet another example of a court letting the police down.
"It undermines us, and does not deter others from assaulting officers. The sentence is a disgrace."
A Ministry of Justice spokesperson said: "This was an appalling crime and our thoughts are with the victim and his family.
"Sentencing is a matter for our independent judges, who make their decisions based on the full facts of each case."
McAllister was jailed for a further 10 months after he was also convicted of handling stolen goods.