Nursing home staff in Idle 'kept man, 81, in abject squalor'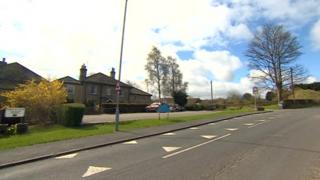 A vulnerable elderly man was kept in "abject squalor and filth" at a nursing home in Bradford, a court has heard.
Edward Hinnells, 81, became a resident at Highdell Nursing Home in Idle, in February 2013.
At Bradford Crown Court, eight members of staff, including the owner and the cleaner, all deny wilful neglect.
On the first day of the trial, the jury heard Mr Hinnells was left unwashed in soiled clothing in a room full of cigarette smoke, urine and faeces.
He lived in a room "not fit for human habitation" with dirty walls and floor. Visitors' shoes would stick to the floor and there was no bedding, toilet paper or wipes, the court heard.
'Difficult to manage'
In court, Highdell was described as a "care home in chaos".
Prosecutor Stephen Wood told the jury a "filthy and encrusted" urine bottle stood on a dirty table next to a cup of tea, while there was a bowl full of urine and faeces under the table.
He said Mr Hinnells could be abusive and violent and was "difficult to manage".
"However, this could never justify the conditions of abject squalor and filth he was left in by the defendants, who variously had responsibility for his care," he said.
"Mr Hinnells's personal hygiene needs were plainly neglected and he resided in a room that was, frankly, not fit for human habitation."
Mr Wood said each of the defendants had a responsibility and duty to care for Mr Hinnells.
"This was systemic, deliberate neglect by those who were charged with the care of a vulnerable, elderly and, let us not forget, very ill man.
"Everyone in the dock failed him."
The trial was adjourned until Wednesday.
---
Defendants on trial:
Stephen Pelkowski, 51, from Addingham - manager of Highdell
Jennifer Cross, 60, from Idle, Bradford - senior care assistant
Phillippa Robinson, 57, from Shipley - senior nurse and registered mental health nurse
Nicki Kassama, 30, from Shipley - carer;
Valerie James, 58, from Eccleshill, Bradford - senior carer
Desmond Crowley, 59, from Daisy Hill, Bradford - staff nurse and registered mental health nurse
Gerard McDermott, 58, from Ilkley - a registered mental health nurse
Piotr Czajkowski, 49, from Ravenscliffe, Bradford - a cleaner
---