Five charged over Hemsworth fatal quad bike crash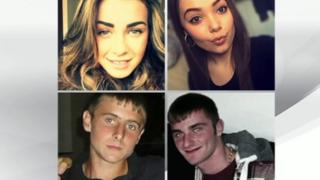 Four men and a woman have been charged in connection with a crash between a quad bike and a car which killed four people from West Yorkshire.
Terrie Kirby, 16, Alexandra Binns, 18, Ryan Beal, 20, and Brandon Brown, 20, died in the crash on the A6201 between Upton and Hemsworth in September.
The five people are charged with encouraging and assisting in the commission of a dangerous driving offence.
They will appear in court on 4 May.
The five people charged are: Jason Ogilvie, 26, and George Tomlinson, 24, from Wakefield; Jacob Ward, 22, from Barnsley; Andrew Kirkwood, 32, from Dewsbury and Gemma Layton, 26, from Leeds.
Ten people previously charged in connection with crash are also due to appear at Wakefield Magistrates' Court on 4 May.