River Aire flood defence feasibility study plans approved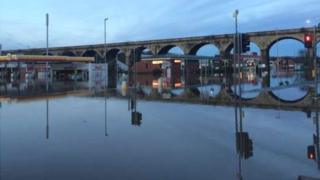 A £3m study into further flood defences on the River Aire is to look at protecting an area of Leeds badly hit by floods last Christmas.
Leeds City Council has approved a feasibility study on extending its river defences upstream from the city centre.
The scheme could offer protection to areas like Kirkstall that experienced heavy flooding.
If approved work could be completed within five years, the council said.
Storm Eva damaged 2,683 residential buildings and 672 commercial properties, as well as churches and Leeds Rhinos training base.
Linton Bridge, north of the city, remains closed following flood damage.
Judith Blake, leader of Leeds City Council said some businesses hit by flooding over Christmas had moved or closed, resulting in job losses and economic damage.
Ms Blake said: "We remain determined to do everything we can to make sure our city has a comprehensive level of flood defences in place in the shortest time possible."
However, the £45m Leeds Flood Alleviation Scheme started in 2015 has already seen works completed downstream in Woodlesford these proved effective at Christmas, said the council.
There are currently no formal flood defences along the River Aire upstream of the city centre.
The work in the city centre with mechanical weirs on the river is to be completed during 2017.
In 2011, a larger flood scheme for Leeds was rejected by the government.
The Environment Agency funded study is to produce a range of designs.