Huddersfield hospital meeting sees 250 people shut out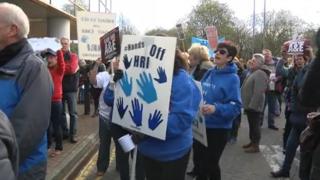 More than 250 people were shut out of a packed hospital meeting to discuss the possible closure of A&E facilities at Huddersfield Royal Infirmary.
Some 500 people were inside a suite in the John Smith's Stadium in the town for the consultation event.
But about 120 others ended up in an overflow room downstairs, while some 150 people gathered outside.
Officials are recommending A&E services be transferred to the Calderdale Royal Hospital in Halifax.
Opponents say the plans could cost lives due to increased travel times.
More on this and other local stories in West Yorkshire
A report in January revealed Huddersfield Royal Infirmary could be demolished and replaced with a new facility with no A&E.
A public consultation by Calderdale and Greater Huddersfield NHS clinical commissioning groups (CCGs) said relocating A&E to Calderdale Royal in Halifax would be "value for money".
'Professional integrity questioned'
At the moment, both hospitals, which are about five miles (8km) apart, provide similar services, a situation health chiefs say is unsustainable.
Many of those gathered both inside and outside the meeting argued a town the size of Huddersfield needed its own emergency department.
Colne Valley Conservative MP Jason McCartney also questioned whether it was a genuine consultation that would consider people's views.
He said: "How can we end up with one of the largest towns in England... without a full A&E department?"
Speaking after fielding questions at the meeting, Dr Steve Ollerton, of the Greater Huddersfield Clinical Commissioning Group, said: "I thought it was really hard if I'm honest - I think it is quite difficult when you get your professional integrity questioned."
He added: "I'm passionate about these changes - they still need to be made - we may have to modify them - but we need to make things better for the whole population and that's what I'm committed to do."
The consultation, which includes a number of other proposals, will run until midnight on 21 June.