Leeds United fans hold protest over club ownership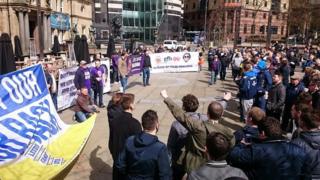 A fan protest has been held against the ownership of Leeds United ahead of the side's Championship tie with Reading.
About 250 people gathered in Leeds' City Square chanting 'time to go, Massimo', with numbers swelling as the march headed to Elland Road.
Protest organisers, the Time To Go Massimo group, said it was time to "end the farce" of chairman Massimo Cellino's ownership.
The club are yet to comment on the march.
Organisers said ex-Leeds manager and current Reading boss Brian McDermott "will return to our club to discover that Leeds United very much remains the circus that he left behind".
Mr Cellino agreed in principle to sell his majority share to supporters' group Leeds Fans United last October, but changed his mind a week later.
A recent tribunal involving former club employee Lucy Ward heard Cellino told a third party that women "should be in the bedroom or the beautician's" instead of in football.
In a statement, the club said Mr Cellino denied making the comment.
At Elland Road, Leeds United beat Reading 3-2.