National Health Service reform protest held in Leeds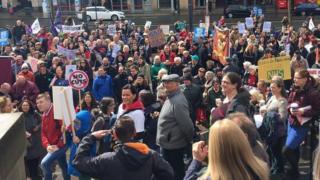 Hundreds of people have marched in Leeds to protest against NHS reforms and funding changes.
Medical staff, union representatives and members of the public gathered outside Leeds Art Gallery and marched along the Headrow.
Organisers said there was "no need to dismantle our NHS" and cuts were putting its future at risk.
A spokesperson for the Department of Health said the NHS "continued to perform well", despite being busy.
The attendees, many carrying placards, marched in a loop around Leeds city centre and returned to Victoria Square for a rally.
John Puntis, a consultant paediatrician at Leeds General Infirmary, said: "We all use the NHS, we don't really want to be in the situation where we're going to have to pay upfront for care as that will exclude treatment for people who can't afford it, and that's the way that we're going.
"There's a lot of outsourcing to private companies and this is going to become more noticeable over the coming years.
"We want to draw people's attention to the fact that it's happening, it's a real threat to healthcare."
Gilda Peterson, one of the organisers, said: "People get letters for appointments saying they are going to see somebody, and on the top is the NHS logo.
"They often don't realise they aren't going to an NHS provider because the government lets them use the NHS logo if they're doing NHS work."
The Department of Health said: "There should never be a choice between providing safe care - our top priority - and balancing the books, which is why we're investing £10bn to fund the NHS's own plan for the future, including nearly £4bn next year.
"Despite being busy, the NHS continues to perform well - last year the service performed 1.6m more operations and treated 2,100 more people every day within the four hour A&E target compared to 2010."