Leeds region 'lags behind European cities in transport'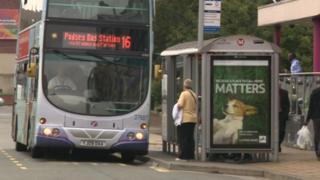 The Leeds region has "lagged behind" other European cities in public transport, according to the city's former council leader.
Councillor Keith Wakefield, chair of the area's transport committee, said it needed "to catch up with the big European cities".
A study of suitable transport systems has been commissioned.
Heavy and light rail, tram-train and buses and trolleybuses are among the modes being considered.
Mr Wakefield said: "If you want to boost the economy, move people to jobs, stop social isolation and improve air quality you need an integrated transport system."
Links to Huddersfield, Halifax, Bradford and Wakefield and other areas had to be improved, he added.
A Leeds "supertram" network was abandoned in 2005 when £40m had been spent on initial work and an initial cost estimate of half a billion pounds had doubled. The idea was replaced in 2007 by a trolleybus scheme later approved with a £250m budget.
However, it was delayed after a public inquiry and has not yet had approval. The scheme was originally scheduled to begin operating in 2020.