Demolition threat to historic Bradford Odeon cinema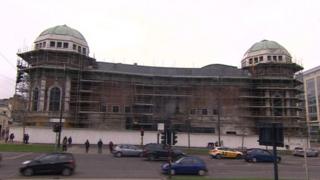 A derelict cinema in Bradford could be demolished if work on its restoration does not start soon, the council's leader has warned.
David Green said the authority needed "to have confidence there is a package that will deliver" on the reopening of the former Odeon.
Ownership was transferred from the council to charity Bradford Live, which plans to run it as a music venue.
Bradford Live said it was still confident it would be fully restored.
Mr Green, Labour leader of Bradford City Council, said that he would expect to see some progress by the en d of the year.
"Another nine months I think will give us a clear indication on the deliverability of the scheme," he said.
"We've said from day one, from the point where we secured the building, that if that does not prove possible then other options, including demolition, would have to be considered.
"There is no point having a building that is just an empty building in the centre of Bradford."
'Key elements'
Lee Craven, project director of Bradford Live, said the charity had been working on an assessment of the structure of the building and seeking financial support.
"The two key elements are getting a commercial operator in place to run the venue and also a successful Heritage Lottery bid," he said.
"Those two elements together are the two core foundations really and we are confident we can deliver on those two."
The project will cost £15m and would see the cinema's original 1930s auditorium restored to hold about 4,000 people and host up to 200 events each year.
The landmark venue in the city centre has been derelict since closing in 2000.
Last month, the Heritage Lottery Fund turned down an application for a £5m grant.