Isaac Brocklehurst: Funeral held for two-year-old in Shipley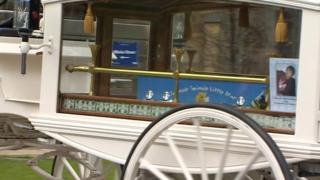 The funeral has taken place of a two-year-old boy who died after being hit by a tipper truck in Bradford.
Isaac Brocklehurst is believed to have walked out into Valley Road, Shipley, from between two parked cars on 23 February.
He was pronounced dead at the scene.
A horse-drawn hearse travelled to St Paul's Church in Shipley, where a funeral service was held. A private burial in Bingley was then due to take place.
His blue coffin carried the words, "Twinkle twinkle little star".
An online campaign to help raise money for his funeral has gained more than £2,700 in donations.