Harold Wilson: Calls for Westminster statue on birth centenary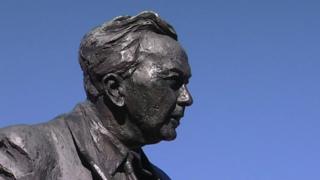 There are calls to create a statue of Harold Wilson in Westminster on the centenary of his birth.
Lord Wilson, who died in 1995, was prime minister for eight years in two separate spells in the 1960s and 70s.
While there are full-length statues of other 20th Century prime ministers in Westminster, there is only a bronze bust of Lord Wilson, supporters said.
A House of Commons spokesperson said there were no plans to commission a full-length statue.
'Credit he deserves'
The figure of the former Labour Prime Minister already welcomes travellers to Huddersfield from a plinth in the square by the town's railway station.
Huyton, on Merseyside, where he served as the local MP for more than 30 years, hosts a second statue in his honour.
Despite these two bronze monuments, some believe another should exist in the Parliament building where he dominated the stage for so many years.
Veteran Labour MP for Huddersfield Barry Sheerman said the bronze bust depicting Lord Wilson was "relatively small" compared to a statue of Margaret Thatcher.
"It is time to give him the credit he deserves as the man who won four General Elections and brought politics and the country into the 1960s," he said.
"Amongst many other things his policies created the Open University and reformed capital punishment and homosexuality."
'Brilliant political mind'
Mr Sheerman said he was gaining all-party support for a more fitting statue to be designed and given a prominent position in the Members' Lobby at Westminster.
He believes Lord Wilson has had a much lower profile because the onset of dementia forced him to leave office.
His illness, Mr Sheerman said, did not allow him to sustain the political profile of other former prime ministers such as Harold Macmillan and Margaret Thatcher after they took their places in the upper chamber.
"It was so sad that one of the most brilliant political minds of his generation should have to step down when he was just 60 because of the early onset of dementia," he said.
Harold Wilson
Shocked the nation in 1976 by announcing he was resigning and the Labour Party would have to choose a new leader
Remained in the House of Commons as a backbench MP for a further seven years before taking the title of Baron Wilson of Rievaulx until his death
He was later succeeded by James Callaghan
Born on 11 March 1916 in Huddersfield, his family moved to the Wirral when he was a teenager - but he maintained his connection with his birth county
Regularly seen at Huddersfield Town matches and became Chancellor of the University of Bradford
A House of Commons spokesperson said Lord Wilson was already represented in the Parliamentary Art Collection "in a number of high profile original works of art", they added.
These include the "specially commissioned portrait bust" and two oil portraits.