West Riding FA says racism incidents reporting 'transparent'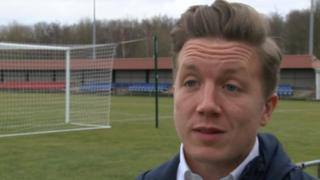 Football's authorities have insisted the processes for reporting racism at junior levels are "clear and transparent" after a complaint of racist abuse in a under-13 game.
The West Riding FA is investigating the allegation made about a game between Chapeltown and Tingley.
One parent of a boy involved said she found the reporting system confusing.
The FA said the system of reporting such incidents was "easier now than ever before".
But one mother, Fiona Bowie, said: "It was difficult to navigate and I didn't manage to find anything that specifically stood out as a procedure for dealing with this kind of incident.
"They didn't actually tell me how I could get them to deal with my complaint."
'Zero tolerance'
The FA said it believed the majority of junior football games went ahead without incident.
Daniel McGeachie, from the FA, said: "I do feel that it is important to remember that when we do hear about an incident like this the process we deal with is transparent and effective.
"Reporting incidents of discrimination is easier now than ever before but the disconnect here appears to be that we haven't communicated that very well."
He urged parents who wished to complain to contact them via email or phone or use online or offline phone and tablet applications.
The investigation into claims made about the game between Chapeltown and Tingley was continuing but Mr McGeachie could not say when it would conclude.
Tingley Athletic said it would not be making a comment to the BBC but on its Facebook page it said the club had a "a zero tolerance to racism" and that the child in question had denied using any racist term.