Work starts on flood-damaged bridge between Linton and Collingham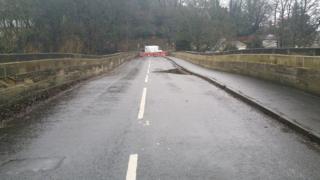 Repairs have begun on a damaged bridge that has been closed since a flood on 26 December damaged its foundations.
The bridge between Linton and Collingham, near Wetherby, West Yorkshire, shut on 27 December as the flooded River Wharfe made it unsafe.
A temporary road is being constructed for heavy machinery to stabilise the bridge, said Leeds City Council.
Heavy rain at the end of December flooded many areas in northern England, including Leeds and York.
Gary Bartlett, of the council's highways department, said parts of the bridge dropped about 8in (20 cm) after the floodwater undermined its foundations.
Work is expected to take "many months", according to the council.
More than 100 bridges were damaged by floods in West Yorkshire and a bridge partially collapsed in Tadcaster in North Yorkshire.
The closure of the bridge between Linton and Collingham has split the two villages and caused changes to bus services.