Racism claims in Leeds junior football match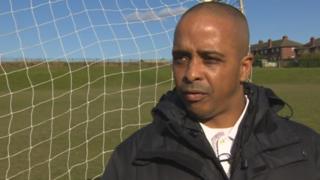 The football authorities are investigating claims of racist abuse in a junior football match in Leeds.
Chapeltown Juniors U13 players said the abuse included being called a racially offensive word in a recent match.
Lutel James, the team's coach said: "The racism happens on a regular occurrence but it's one of those things that's easy not to talk about."
Daniel McGeachie of the West Riding County FA said: "Every case of this nature we take incredibly seriously."
The county FA has confirmed it is investigating the allegations.
Mr James said: "For too long it [racism] has been ignored but now we are seeing a new generation of young players coming through."
He called for the football authorities to look at an education process to help people "understand we are in a multi-cultural society".
A Facebook video has been posted of the young footballers detailing the offensive comments.