Facelift for Bingley lock gates on Leeds Liverpool canal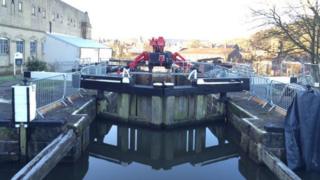 Two lock gates at Bingley Three Rise on the Leeds and Liverpool Canal are to be replaced in a £150,000 facelift.
The canal wall is also to be restored along with the 25-year-old gates.
Completed in 1816, the canal carried cotton, coal, wool, limestone, sugar and other cargo through Lancashire and Yorkshire.
The locks, an 18th Century staircase flight where the lower gate of one lock forms the upper gate of the next, are to be craned out.
The Grade II*-listed rise opened in 1774, four years after construction of the canal had begun.
The new hand-crafted oak lock gates have been made at the Canal and River Trust's workshop at Stanley Ferry in Wakefield.
Visitors will be able to use a viewing platform to watch the work until 6 March.
The locks are close to the Bingley Five Rise, the only Grade I-listed lock flight on the Leeds and Liverpool.
The 127-mile (204-km) long canal is now mainly used for leisure boating, walking, angling and cycling.
The work is part of a £45m maintenance programme on the waterways, said the trust.