Landslide-hit Todmorden family unable to return home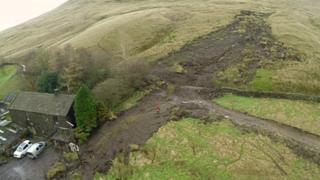 A family forced out of their home by a landslide for nearly two months say they have no idea when they will be able to return.
The Lord family left their farmhouse near Todmorden on Boxing Day when council inspectors declared it unsafe.
Derek Lord, 67, his 85-year-old mother and sister, aged 62, have been living in temporary housing since the landslide struck.
Calderdale Council said it was providing "all the support we can".
Mr Lord told BBC Inside Out: "Fifty-odd years we've lived here and we've never known this. The landslide could have taken the house out, it could have killed us.
"At the moment my mother and sister are worried sick because they can't get back into their own house.
"People say 'Why don't you sell up and go?', well, how can we sell up and go with this on our back doorstep?"
He said the cost of clearing and shoring up the land would be several thousand pounds, but he does not have the money to fund the work so may have to carry it out himself.
A spokesman for Calderdale Council said the Lord family had been given £500 and granted a three-month council tax exemption on both the farmhouse and their temporary accommodation.
He said the authority would continue to monitor the stability of the land.
Dr Bill Murphy, a senior lecturer in Engineering Geology at the University of Leeds, believes landslides could become more prevalent in the years to come.
He said: "As we see one degree increase in temperature we can expect to see 9% more moisture in the atmosphere - the consequence of that is that we're going to get more landslides."
Inside Out Yorkshire and Lincolnshire is broadcast on Monday, 22 February on BBC One at 19:30 GMT.