Guiseley vets warn pet owners after dog poisoning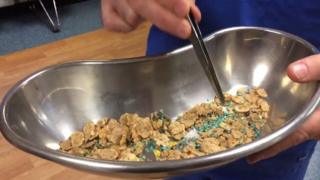 A West Yorkshire vets has warned pet owners to be vigilant after treating a dog that appeared to have been deliberately poisoned.
On Friday, a dog ate cereal it found on the ground close to Guiseley Football Club, Leeds, which had been laced with what is believed to be rat poison.
It was taken for treatment at White Cross Vets and has since recovered.
Dog chews also thought to be mixed with poison were discovered on Sunday on a footbridge in Guiseley.
West Yorkshire Police said it was investigating, with similar incidents reported in the area in October 2014.
Tracy July, who cleared up the cereal, said: "A child could have touched [the poison] and been in serious difficulties."