Huddersfield-to-Halifax A&E would be 'value for money'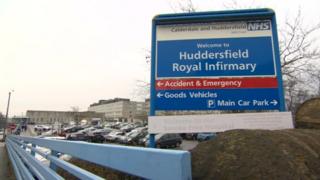 Closing a West Yorkshire hospital could save £31m, NHS bosses have said.
A report in January revealed Huddersfield Royal Infirmary could be demolished and replaced with a new facility with no A&E.
A draft public consultation document by Calderdale and Greater Huddersfield NHS clinical commissioning groups (CCGs) said relocating A&E to Calderdale Royal in Halifax would be "value for money".
A petition against the closure has been signed by more than 52,700 supporters.
The NHS stressed the document was in draft form, and the consultation date had not been decided.
Demolishing the infirmary and relocating emergency services to Calderdale would cost £470m compared with £501m under proposals considered for Huddersfield, it said.
'Model of care'
A new hospital for planned care but no A&E would be built at Acre Mill in Huddersfield.
People in Huddersfield would have to be taken to Halifax, Wakefield or Barnsley for emergency treatment, or across the Peak District to Oldham or east Manchester.
"You may wonder why we are now proposing Calderdale Royal Hospital as the site for the Emergency Centre and not Huddersfield Royal Infirmary as initially suggested by Calderdale and Huddersfield NHS Foundation Trust," the document said.
"The model of care we are proposing sets out what we believe to be the best way to provide care for our local population. "
It continued: "The total funding required, including the funding to develop Calderdale Royal Hospital as the Emergency Centre would be £470m, compared to £501m if we were to develop Huddersfield Royal Infirmary to be the Emergency Centre."
The Huddersfield hospital, which is over 50 years old, would need "significant rebuilding" plus a £20m a year of backlog maintenance until 2020-21.
Conversely, Calderdale Royal is a "modern hospital", only 15 years old.
Health chiefs said the document is only a draft and the consultation launch date had not been decided.
It will be discussed at a meeting on 22 February and start "shortly after" the final documentation is agreed.