£5m Butterley Reservoir revamp to start next month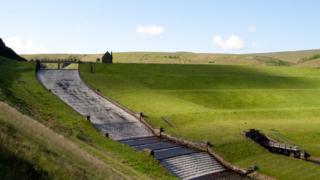 A £5m scheme to replace a Victorian waterway at the centre of a bitter High Court battle is to start next month.
Butterley Reservoir's stone spillway, near Marsden, was built between 1891 and 1906 to cope with overflows during periods of heavy rain.
Yorkshire Water was given permission to rebuild it after a public inquiry by the government's planning inspectorate.
Campaigners lost their legal fight in October to stop the Grade-II listed landmark being covered with concrete.
The water company said a previous inspection of the site revealed improvements were needed to ensure it complied with the Reservoirs Act 1975.
'Sympathetic design'
The work will include raising the spillway walls and replacing a steep section with a straight slope to ensure flood waters are contained within the channel.
Lee Laherty, from Yorkshire Water, said, "We know that the spillway is a much-loved local landmark and we've worked hard to design a solution that's sympathetic to the local surroundings, whilst ensuring it meets legal requirements."
Plans to rebuild Butterley Reservoir were first mooted in 2012 and met with objections from campaigners.
Kirklees Council rejected Yorkshire Water's plans to replace the spillway in January 2014 and the company appealed against the decision.
Permission was granted in March 2015 and a High Court challenge by campaigner Colin Anderson - supported by the Save Butterley Spillway group - was rejected later that year.
Work on the site is expected to finish at the end of 2017.