Stranded Calderdale canal boats lifted to safety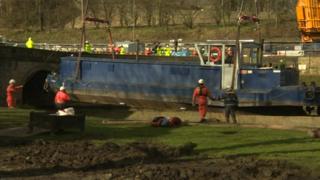 Canal boats left stranded by flooding have been lifted to safety by a crane being used to install a bridge to carry utility cables and pipes.
A number of vessels were grounded on the canal near Elland in December.
The temporary service bridge will carry water, gas, electricity and telecoms while Elland Bridge, which partially collapsed, is replaced.
The government has pledged up to £5m for a new road bridge, with work expected to take about a year.
The leader of Calderdale Council, Councillor Tim Swift, said: "Elland bridge is in a very bad state, and will unfortunately have to be demolished.
"As well as previously being an important crossing point, the damaged bridge also carries important utility services.
"The installation of a separate crossing point to contain these services will ensure they are protected."