Edna Lumb exhibition opens to mark Leeds college milestone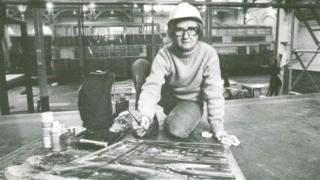 An exhibition of work by industrial artist Edna Lumb has opened as part of Leeds College of Art's 170th anniversary celebrations.
The show, entitled "Industrious Pioneer", includes paintings of Horsforth Quarry, Salts Mill in Saltaire and Leeds market.
Lumb, who studied at Leeds College from 1948 to 1953, said industrial landscape "fascinated me and brought a sparkle to my eye".
The show runs until 11 March.
A spokesman for Leeds College of Art said: "Her work stands as one of the most successful observations of British urban and industrial life with engines, pylons, quarries, cooling towers, bridges, pit-heads, market places and wheels her perpetual subjects.
"The exhibition offers a celebration of Edna Lumb's career and reassessment of her pioneering output as an artist of industrial Northern landscapes."