Hebden Bridge reservoirs considered for floodwater storage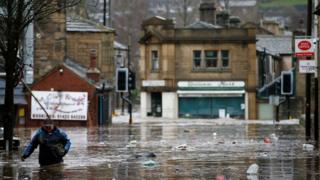 A move to use reservoirs usually reserved for drinking water as storage for floodwater is being considered in West Yorkshire.
The Environment Agency hopes to spend up to £15m to improve Hebden Bridge's flood defences and is in talks with Yorkshire Water about reservoir use.
Reservoirs above the town would be deliberately kept at lower levels so they act as storage tanks in downpours.
Yorkshire Water said it had concerns it could lead to water shortages.
Work could start within two years, with new flood walls and other defences for the town also discussed.
Thousands of homes and businesses in the region were damaged when Storm Eva battered the north of England during December's floods.
'Explore all options'
Adrian Gill, area flood risk manager for the Environment Agency, said: "If we would take the option forward, we would look to reserve a volume of water in those reservoirs to be used at a time when it's needed.
"At the time when the water is peaking through the centre of the town, we would then be able to fill those reservoirs just to take off those highest river levels through the centre."
Yorkshire Water said it was "keen to explore all options", but it had some reservations about the possible move.
A spokesperson said: "Around 45% of the water that flows through customers' taps comes from reservoirs, so to keep them artificially low during the winter could lead to water shortages in the spring and summer when demand is highest.
"Similarly, it is not a case of simply emptying them in winter when they're full - to do this would mean putting the water into already swollen rivers and watercourses, which could exacerbate the flooding problems."
A plan for nearby Mytholmroyd will be drawn up by May, with a flood defence scheme for the whole Calder Valley going to Parliament in October.