Construction in Leeds at nine-year-high, says report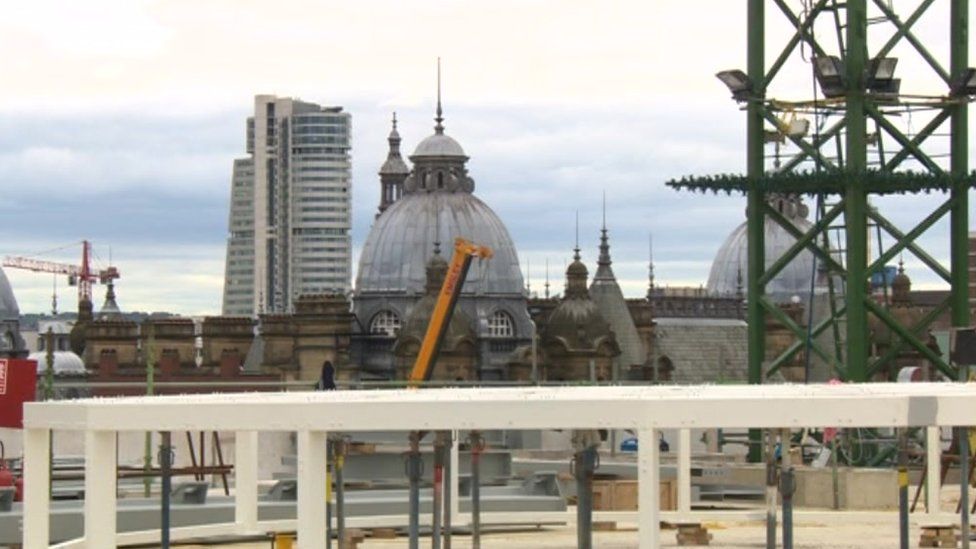 Construction in Leeds has hit a nine-year high, according to a survey of building in the city.
The Crane Survey found more than 865,000 sq ft (80,400 sq m) of office space was under construction, more than double the amount in 2014.
Victoria Gate, a £150m retail and leisure development containing a John Lewis store, is to open this year.
In all, 16 new starts for large construction projects are recorded in the city.
The number is the highest since 2007 when it saw 31 starts, according to the same report.
Education construction projects included the Ruth Gorse Academy and the University Technical College.
Construction of two new hotels also started in 2015 that will add 224 beds for visitors to the city.
And 365 residential units were either in construction or completed during the year.
Danni Hewson, BBC Business correspondent
"Tot up the number of cranes seen on a city skyline and you get a pretty good indicator of its economic health.
"Recession took its toll but the report tells of a nine-year high.
"It's not just office building - developments include flats, hotels and the Victoria Gate shopping centre.
"Despite the upward trend, Leeds loses out to Manchester - with 16 developments to 21 on the other side of the Pennines.
"Those figures compare with nine schemes in Birmingham."
Angela Barnicle, of Deloitte, who carried out the survey, said it was a "positive report" and Leeds showed "sustained growth in all its sectors".
However, it will require a "sustained effort" from private and public sectors to "maintain the city's planned development and construction".
Counting cranes
What's been built in Leeds?
16 Major construction projects

865,000 Square feet of office space (80,400 sq m)

365 Residential units

2 New hotels
Reuters
Jeff Pearey, of estate agent JLL's Leeds office, said: "Leeds has enjoyed a revival over the last five years with a host of new office developments, capable of attracting the best occupiers that Leeds has become synonymous with, taking shape on the city's skyline.
"At the end of 2015, Leeds and Manchester accounted for the greatest share of office development activity across the larger city markets outside of London."
The Leeds Crane Survey measures the volume of development taking place across Leeds in larger construction schemes including office, retail, leisure, residential, student accommodation, education and hotel property.
Related Internet Links
The BBC is not responsible for the content of external sites.